Back to FCAA Products
Dinner Meeting on Demand
Education Course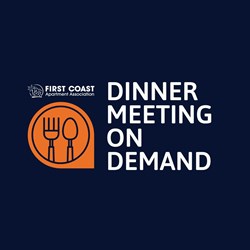 Welcome to our first ever Dinner Meeting on Demand! We understand that attending in-person meetings during our "new normal" of Coronavirus can be challenging, so we wanted to make sure that you didn't miss out on the opportunity to hear the FAA Legislative Update from FAA President Katie Wrenn, and FAA Government Affairs Manager William Jaycox.
This quick 30 minute video highlights:
The newly signed Emotional Support Animal Abuse Legislation - What does it mean now that it's the law?
What's going on with the 2020 FAA Conference scheduled in October?
Why does the Governor keep extending the Eviction Moratorium?
What do properties have to do to comply with the new Human Trafficking Prevention legislation?
And more!
Don't miss this great opportnity to get up to date on the legislative activities happening around the state that affect your business! Download today and get caught up!
The July Dinner Meeting was generously sponsored by:

---