Back to Events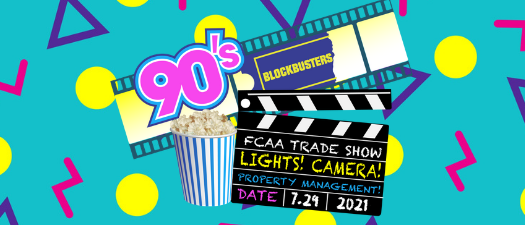 Trade Show: 90s Blockbusters: Lights! Camera... Property Management!
Thursday, July 29, 2021
* Registration open until 7/29/21 at 12:00 PM (EDT)
Event Details
Thursday, July 29th, 2021
---
90's Blockbusters:
Lights, Camera, Property Management!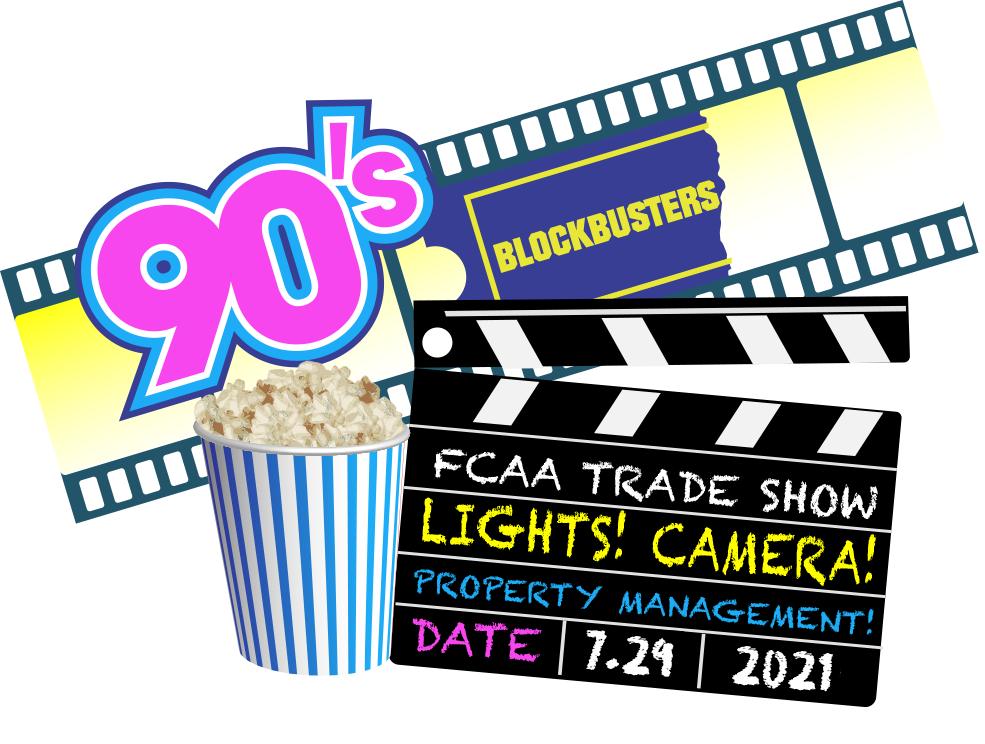 ---
---
Attendees:
Pre-purchased Tickets = $15
Day of Tickets = $20
Invoicing is only available for 4 or more tickets
Tickets will be mailed to the address you provided on registration until July 22nd.  Any tickets ordered after this date will need to be picked up from the FCAA office.
Tickets are non-refundable.
Prior to registering please make sure you have read, and agree to, the public health measures that will be implemented for this event. Failure to abide by these measures will result in removal from the show.
View the Trade Show Floor Plan
---
Exhibitors: 
Please note that if you choose to keep your 2020 booth payment AND placement with us for the 2021 show, refunds are no longer available as of 8/1/2020.
Booth Pricing:
Standard: $625 (MEMBERS) | $925 (Non-Members)
Premium: $725 (MEMBERS) | $1025 (Non-Members)
Member Pricing Access Password: blockbusters
Should you use the member password and receive member pricing, and you are not a current member of FCAA, your invoice/order will be adjusted to reflect non-member pricing. (+$300). 
Sponsorships are only available to FCAA members.
Should a non-member want a sponsorship, they can secure one with an additional $300 non-member fee added to the total sponsorship price. 
For More Information:
9456 Philips Highway Suite 4
Jacksonville, Florida 32256
904.292.1345
---
COVID19 In-Person Event Protocols - Please Review
In order to resume in-person programming, it is necessary to adhere to a strict set of protocols in the interest of public health. Please review the information below and plan accordingly. Questions or concerns should be directed to an FCAA team member in advance. **Updated June 24th, 2021**
Regardless of your vaccination status for COVID19, ALL attendees and exhibitors have the option to wear a face-covering/mask while inside the exhibit hall. This is optional but strongly encouraged!
If you or someone you frequently interact with is part of a vulnerable population outlined by the CDC, COJ, FDOH, or other relevant health authorities, you should not participate in this event.

 

Cancellations or substitutions with no penalty will be honored but must be requested in writing no less than one week before the event.
If you are sick, experiencing symptoms, or believe you have been recently exposed (within 14 days) to someone with COVID19

 

you may not attend this event

. Same day cancellations for those exhibiting symptoms or who have recently tested positive may be honored but must be requested in writing. Additional documentation may be required. 
By attending you assume ALL RISKS associated with attending an in-person, indoor, event and may be required to sign a liability waiver at registration. (click here for a sample). 
Thank you for your cooperation! If we all do our part we will be able to safely resume these essential engagement opportunities. We look forward to seeing you "in person" soon! More information on FCAA's reopening protocols, procedures, and COVID19 amended cancellation policies can be found here.
---
TRADE SHOW RULES AND REMINDERS
Non-exhibiting suppliers are not permitted entrance to the show.

 

Secure your booth here

 

(subject to availability). 
No one under the age of 18 may participate in the show as an attendee or exhibitor.
Please keep your badge on & in sight at all times. 
No more than 4 booth reps in a booth at a time.